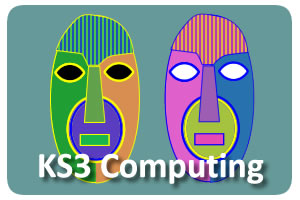 Free Drama resources
In the days when we actually used to produce books, we created two resources which may still be useful to drama teachers:
Drama Works!
1001 Drama Starters
Both these books are now available as a free resource from the Downloads page. Click on the image link...
KS 3 Computing
Fourteen units are now available offering full coverage of the KS3 National Curriculum Programme of Study.
Pick and mix any or all of these units to supplement your current schemes of work.
Follow the image link to find out more...
Welcome to Classmate Books. The links below will take you to information and working examples of all the main products we have available at the moment.
GCSE Revision Apps
There are three GCSE Revision Apps for English Literature texts currently available.
Find out how to help your students revise on their mobiles wherever they are by following this link...
GameMaker still going strong...
When we first produced GameMaker back in 2006, we never expected its 'shelf life' to be this long. The move towards Computing has given this Flash based resource new relevance.
Help your students to write working web-based games using Actionscript 2, still fully supported by all current versions of Flash. Covers KS3 to KS5....